Irish E-Commerce Survey Preliminary Report
The Irish E-Commerce Survey was undertaken by StudioForty9 as part of a standalone project to gather current and relevant statistics pertaining to the state of e-commerce in Ireland. There is presently a lack of information available on a market that is becoming increasingly important not only to the Irish market but to the global economy. The survey explored different business outcomes related to operating an e-commerce website including average conversion rate and basket value. It also delved somewhat into marketing costs and social media usage.
While 69 companies started the survey, only 33 companies provided e-commerce figures, and 29 fully completed the survey. Unfortunately, this small sample size limits the amount of statistical significance that can be placed on the data gained through the survey. Using a sample size calculator, with a 90% confidence interval allowing for a 10% margin of error, we would have needed 68 respondents. To decrease the margin of error to 5%, the ideal sample size jumps to 268 companies. These numbers were calculated using a population of 21,000 e-commerce companies determined by the following: 153,419 .ie domains registered at the end of 2010, 66% of which are business with 21% of those having e-commerce sites.
However, despite the small sample, the information gathered is interesting and among the first of its kind in the Irish market. It is the hope that companies will begin to see the importance of operating with this knowledge and take a more active role in future research.
The following are results gained from the Irish E-Commerce Survey:
The full report will be available on April 22nd; below is a sample of the information obtained.
The majority (80% or 51 out of 64) of companies that responded are headquartered in Ireland and have less than 10 employees. That percentage increases to 94% (31 out of 33 respondents) in regards to those questions pertaining to specific e-commerce information
Average Conversion Rate and Basket Value
While the survey asked respondents to input the company's average conversion rate, the information needed to manually calculate it was also collected. Based off 33 responses, when comparing the average conversion rate entered by the company (3.47%) to the one calculated by dividing total orders by total website visits (1.92%), it seems companies overestimate the actual percentage.
Similarly, the average basket value, calculated by dividing total website turnover by total orders, was also different, albeit reversed, between input values (€85.78) and calculated values (€107.80).
Channel Rankings of E-Commerce Sales Generation
To further understand companies' perception of e-commerce sales generation, participants were asked to rank 9 different channels in order from the channel which generated the most sales (1) to the channel that generated the least (9). An average was then taken from the rankings of 22 respondents. While the top two were relatively close in ranking, email newsletter followed at a distant third with most others not far behind. Affiliate was noticeably last with 64% of respondents raking it in the 9th position. The following are the final ranking results with associated means: direct traffic (1.82), search engine traffic (1.95), email newsletter (4.68), referral traffic from other websites (5.00), Facebook (5.09), paid SEO traffic from Google AdWords (5.55), other social media (6.14), paid SEO traffic from other search engines (6.41), and affiliate (8.36).
Reasons for Social Media Usage
AMAS recently conducted a survey which asked marketers why they used social media. We solicited the same information; with the same answer choices in order to understand if those dealing primarily with the e-commerce side of business, in small companies, would feel the same. While we had significantly fewer respondents to the question (30), interestingly, the ranking of reasons to use social media followed a similar pattern: building brand awareness (67%), building relationships (63%), listening and monitoring (37%), commenting (30%), and gathering customer information (17%).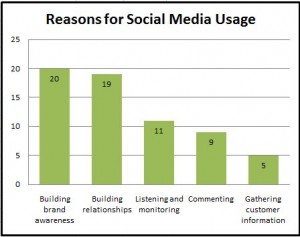 Future Research
After the release of the full report on April 22nd, the survey will be re-launched and remain open to continue to collect information pertaining to the 2010 Financial Year. Because e-commerce is rapidly changing and has high growth and revenue potential, the Irish E-Commerce Survey will also be conducted annually to monitor and report on the sector.